Tree of Life Studios is the creative ministry of Jim and Celeste Lauritsen, artists, educators, and craft professionals. The name Tree of Life Studios refers to the scripture verses in the books of Genesis (2: 9, 3: 22, 24) and Revelation (22: 2, 14), where seeking nourishment from the Tree of Life is seen as the ideal for Christian living. Jesus' death on a tree allows the cross to take root in our hearts and spring forth as new life. We celebrate with joy, and invite you to partake in the visual images inspired by living in the Tree of Life.
As visual artists, the Lauritsens, Jim and Celeste, draw on their faith background for inspiration. "We are pilgrims in this world and our journey takes unexpected twists and turns. The art materials are our raw materials of creation." Jim's works are reflective of life depicted in stone and wood, while Celeste uses traditional and contemporary iconography and the softer medium of fabric to convey life's journey.
Stone and Wood Carving
Jim began his love of woodworking while watching his grandfather, a master carpenter, work in his wood working shop. After Jim inherited his grandfather's tools he began to slowly to hone his own skills. He was particularly drawn to the wood lathe and hand carving. More recently Jim expanded his skills to include working in stone, which also meant expanding his workshop. He is especially drawn to simple almost abstract forms and considers the work of sculptors Barbara Hepworth, Constantin Brancusi, Henry Moore and native American sculptor Allan Houser as his inspirations. Jim is an instructor for an online course from Mansfield University and is a retired Library Media Specialist from the Gettysburg Area School District. Jim has degrees from St. Thomas University and Barry University in Miami, Florida and Shippensburg University in Pennsylvania.
"Often my works are pre-determined by the size of the wood or stone I obtain. I spend time observing the raw materials before I take tools in hand to carve or chisel."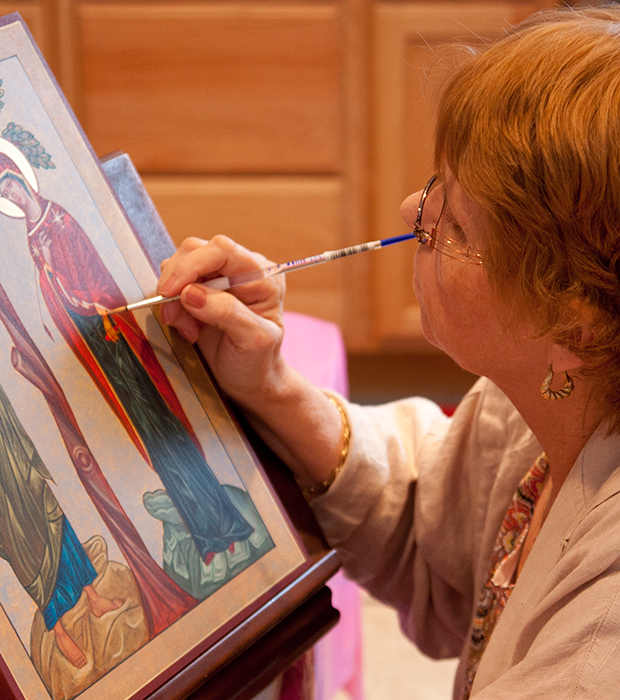 Iconography
Celeste studied art at Barry University in Miami and has been an artist and teacher since the 1970′s. She found herself creating mostly Biblical or spiritual art and received a master's degree in Theology from the Washington Theological Union. She currently is a full-time artist and iconographer after retiring from art and religious education for over 25 years. She also teaches icon workshops and has developed iconography retreats. She was honored by being awarded the first annual Ade Bethune Award for Excellence in the Sacred Arts by the Washington Theological Union. Celeste began the Arts for Theology program at the Union while she was a student there and continued working for the Theological Union as the Theology and Arts Coordinator. She is currently a member of the Fine Arts Council at the Lutheran Theological Seminary in Gettysburg, a member of CIVA (Christians in the Visual Arts) and the Adams County Arts Council.
"Iconography, Byzantine and Coptic, can be rather structured and helps to bring the scattered parts of my artistic nature into a prayerful whole."
I love color and am often influenced by sacred imagery of the past.